TO INFINITY, CELEBRATING 8 YEARS IN SERVICE
Goldamity celebrates 8 years of service and looks forward to the future.
Your favorite insurance brokers celebrate 8 years in business serving over 25,000 clients throughout the state of California. Join the Goldamity team for a live experience of appreciating our clients:
November 19th, 2021 at 8 am at our office in the city of Grand Terrace.
22320 Barton Rd Ste. D. Grand Terrace, CA 92313
On this day, we will be celebrating 8 of our loyal clients with a gift, a token of our appreciation. This meet & greet event is designed to maintain our personable approach to serving our clients both in person & with the use of modern communication.
With our on-the-go meet & greet, we invite our clients and community to enjoy coffee and gourmet donuts, and share our Live Photo booth experience. 
With the support of our clients, both local and statewide, we look forward to serving all "To Infinity".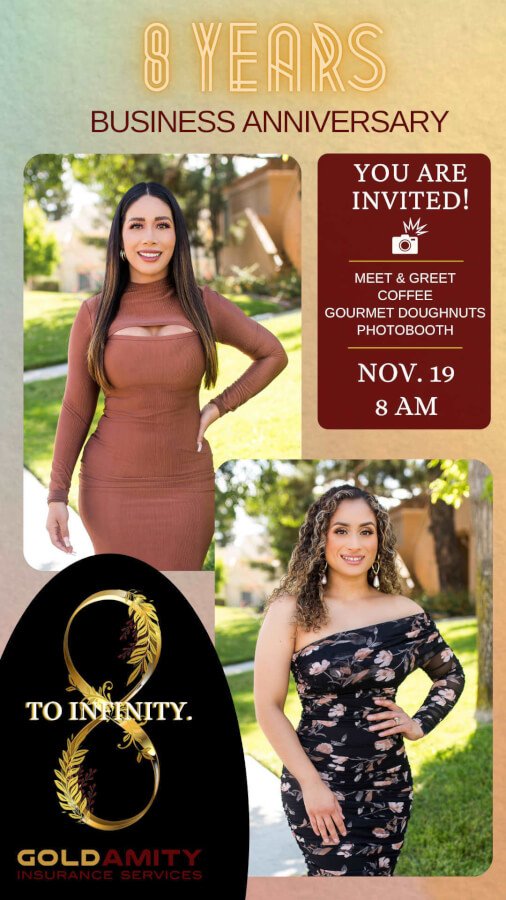 Goldamity Insurance Services Inc is an independently owned INSURANCE BROKERAGE
It is owned and founded by a Latina woman named Elvia Rodriguez, who was proudly raised and educated in the city of San Bernardino.
It was established in 2013 and merges modern technology systems with a personalized experience for every customer.
Our brokers strive to provide above & beyond services to people who are new to insurance or have been turned down by other insurance companies. New drivers, new homeowners, and new business owners. Or those with suspended/expired licenses.

We value a golden relationship with our clients, providing top guidance through complex processes. Our brokers will always treat you with the highest level of respect and listen to your needs. We look forward to assisting our clients in the Inland Empire, Los Angeles, Riverside, and Orange County areas. Thank you for partnering with us and trusting us in making your protection easy.